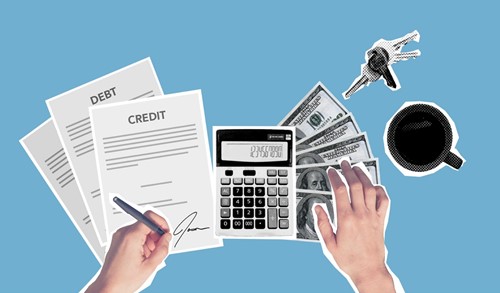 One of the most important things to check once you decide to start the home buying process is your credit score. The three major credit bureaus keep track of how you pay for your credit and how much credit you have. Your score fluctuates, sometimes daily, depending on how much you owe and how many accounts you have. Applying for credit also affects your score. It will usually drop by a few points every time you apply for a loan or credit card, even if you don't get the credit.
Applying for a Mortgage
When you apply for a mortgage, the lender pulls your credit score from all three credit bureaus. The lender will advise you whether it has a loan program that will accept your credit score. Some loan programs work with those who have scores as low as 520. Because the credit bureaus deduct points every time you apply, it's better to call lenders and ask them if they have programs for lower credit scores—if your score is low.
Credit Scores and Interest Rates
Because lenders interpret your credit scores as the inability to manage your credit, they deem the risk of loaning you money quite high. The higher the risk, the higher your interest rate will be. If you have a credit score of 750, you might get a lower interest rate, depending on the current going rate. However, for the same loan, if you have a credit score of 540, you will pay more interest.
Changing Your Credit Situation
Before you even start looking for a house, pull your credit from all three major credit bureaus. Look for incorrect data. Dispute the data to correct it. For example, if you see a 90-day late fee on a credit card that you did not apply for or use, dispute that card to take it off your credit report. It is always a good idea if you pull your credit at least every three months to check for identity theft and incorrect data.
If your credit score is low because you ran into hard times and everything is correct, you could buy down your interest rate and put a larger down payment down on the loan. While you are saving up for the down payment, make sure you pay your bills on time to better your credit score. Try to save up 25 or 30 percent instead of the 20 percent most lenders require. Saving up a few thousand extra dollars also allows you to buy points, which drops your interest rate. A higher down payment also decreases the lender's risk and might get you a lower interest rate.
The cost of points is usually 1 percent of the total loan. Thus, 1 point on a $100,000 mortgage would cost you $1,000. It could buy you a quarter of a percent interest rate. Instead of an 8 percent interest rate, you would have a 7.75 percent interest rate.
Researching loan programs and making sure your credit is accurate helps you determine whether you want to start the house-hunting process now or save for a higher down payment and wait for your credit score to increase.